You wouldn't have found a more excited fangirl than me when news broke that not only were Isabel and Cole from the
Wolves of Mercy Falls
trilogy getting their own book, but Link and Ridley from
Beautiful Creatures
as well. I often cling to the secondary characters in big series so I definitely squealed a bit. Or a lot. Whatever.
I know giving secondary characters their own novel isn't really a new concept in publishing but these two were my first taste of it. And if I'm being honest ... I was kiiiiiiiiind of let down.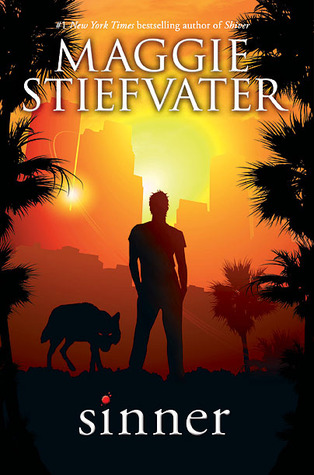 Sinner
by
Maggie Stiefvater
Publisher:
Scholastic
Pages:
357
Release Date:
July 1st, 2014
Source:
Purchased
While
Sinner
explored the dynamic between Isabel and Cole and their relationship ... well, that's pretty much all I got from it. There wasn't a plot if you don't count Cole's new reality show endeavor and I don't because that was mainly there to push Cole into comprising situations. There wasn't even the wolf aspect of the
Wolves of Mercy Falls
to wrap me in a warm, familiar hug to reassure me that this was the world and the characters that I was so in love with. Well, there was but only a few scenes and they seemed a bit all over the place to me. The last disappointment was Isabel and Cole's relationship which pretty much
is
the story. The passion and chemistry they had in
Forever
fizzled so hard. I can't recall a single touching or super romantic moment.
I'm happy that this was written and I'm happy I read it. I didn't like it all that much, but it's like bumping into an old friend that you haven't seen or spoke to in forever - it's always nice to see them. And despite how I felt about the book as a whole, it definitely was nice to get closure with Isabel and Cole.
Dangerous Creatures
by
Kami Garcia
&
Margaret Stohl
Publisher:
Little, Brown Books For Young Readers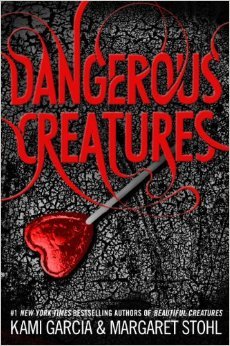 Pages:
368
Release Date:
May 20th, 2014
Source:
Purchased
Unlike
Sinner
, I actually really liked
Dangerous Creatures
. Link was his usual Shrinky Dink, lovable self and Ridley was as charming *cough* as ever. I did have a couple of small things that I wish were different but overall, I thought Kami and Margaret gave Link and Ridley an awesome story of their own. I thought the way some plot lines of the previous
Beautiful Creatures
were entwined with this story was a really great idea and introducing a new kind-of-villain only made it better. (Speaking of - can we talk about how I kind of love and hate Lennox Gates at the same time?! Is this how Loki lovers feel?)
As I said before, there are some things that I was pretty meh about. First, the lack of passion between Link and Ridley. Just like Isabel and Cole, these two seemed kind of dull compared to the BC series. They definitely had their cute and romantic moments, don't get me wrong, but this entire book was about them. I want a lot more playful, sarcastic Link and Ridley relationship goodness! The second thing could probably relate to the first - I feel as if this could have been a bit of a bigger book with more. More plot, more room to develop the characters and the tension, more loveytimes for Link and Rid. Maybe I'm just used to being spoiled with how massive all of the other BC books are but that was definitely something that nagged at me. And the last thing was how anticlimactic it all seemed. I mean, it's kind of hard to top the kind of terrifying things that Ethan and Lena had to go through, but give my little fictional babies some kind of epic adventure of their own.
But! I definitely did enjoy it! It fit snugly in the awesomely wicked world that Kami and Margaret created while standing apart from all of the other books. I'm excited for book two and to see where it takes Link and Ridley.